Cajun Veggie Chips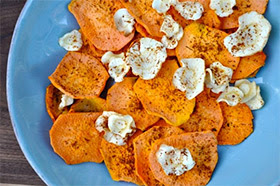 Here's a nutritious way to enjoy some crunchy, tasty chips. By thinly slicing and baking vegetables, you're able to get your chip fix without tanking your fitness results. Make a large batch on the weekend and portion your veggie chips out into ziplock bags for the week.Servings: 4
Here's what you need:
2 lbs of root vegetables, thinly sliced (sweet potato, parsnips, beets or carrots)
Sea salt
Cajun spice
Preheat the oven to 375 degrees F. Line a rimmed baking sheet with parchment paper.
Thinly slice the root vegetables with a mandoline slicer, to 1/8 inch thickness. Toss the sliced veggies with a sprinkle of sea salt and Cajun spice.
Spread the sliced veggies over the prepared baking sheet. Roast for 20 minutes, or until crispy. Enjoy!
Nutritional Analysis: One serving equals: 139 calories, 0g fat, 287mg sodium, 22g carbs, 8g fiber, and 3g protein